Briefing #4: Secrets of Great Stallions
Not all stallions are created equal. Why do some stud horses produce winners, when others don't? On our latest trip into the bluegrass, we paid a visit to the greatest stallion in modern times and one of the wealthiest racehorses in the world.
---
For horses, like people, it all comes down to family.
Driving around Lexington on our most recent trip to visit a few more breeding operations, broodmare farms, bloodstock agents and horse owners, it's impossible to ignore that this one city in central Kentucky is the horse capital of the world. Street names are all named after champions of the track—Man Of War, Citation, Sir Barton—but it's worth noting that the city itself is named after the true hero and engine of this place: Lexington, a blind stallion from the 1850's and a father of Kentucky horse breeding, which is now a fading yet still billion-dollar industry.
Lexington was a beast on the track. He won six of his seven starts, races that were then grueling four mile tests of endurance. He also beat his rival LeComte in match races that were considered among the most thrilling of the 19th century. Here is one of many memorable moments from a turf writer's first hand account in the New Orleans Times-Democrat:
"Onward they plunge; onward without pause! … `By heaven, Lecomte is overhauling him!' And so he was, for on entering the backstretch of the second mile the hero of 7:26 made his most desperate effort, reaching first the girth, then the shoulder, then the neck of Lexington, and finally, when he reached the half mile post, laid himself alongside him, nose by nose … But this equality was only for a moment's term. Lexington threw his eye jealously askant; Gil Patrick relaxed a little of his rein … and without a violent or startling effort, the racer of racers stole ahead…"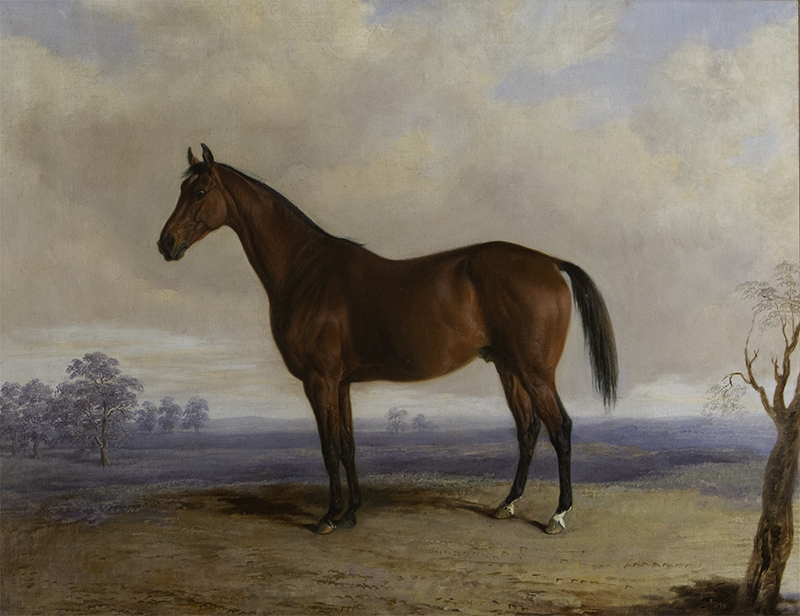 Lexington was considered the best horse of his day, but off the track he became the most successful stallion of his generation.
The history of this horse, like many lucrative stallions, is highly detailed. In 1855, according to reports, he fell victim to the same genetic predilection of his father. After starting to lose his vision, he eventually went blind. After retirement, he became a marvel in the breeding shed and his offspring went on to dominate racing. Along with winning nine of the first fifteen Travers Stakes, Lexington produced an arsenal of extraordinary horses including Cincinnati, the favorite horse of Ulysses S. Grant who was immortalized in countless statues.
Without vision, Lexington even survived the Civil War. During the war, the horse farms in Kentucky were plundered by soldiers looking for good mounts to use in battle. Then 15 years old, Lexington was still so valuable he was kept hidden and ultimately spared. Breeders still ponder the question: What makes some stallions good, and other stallions like Lexington great?
---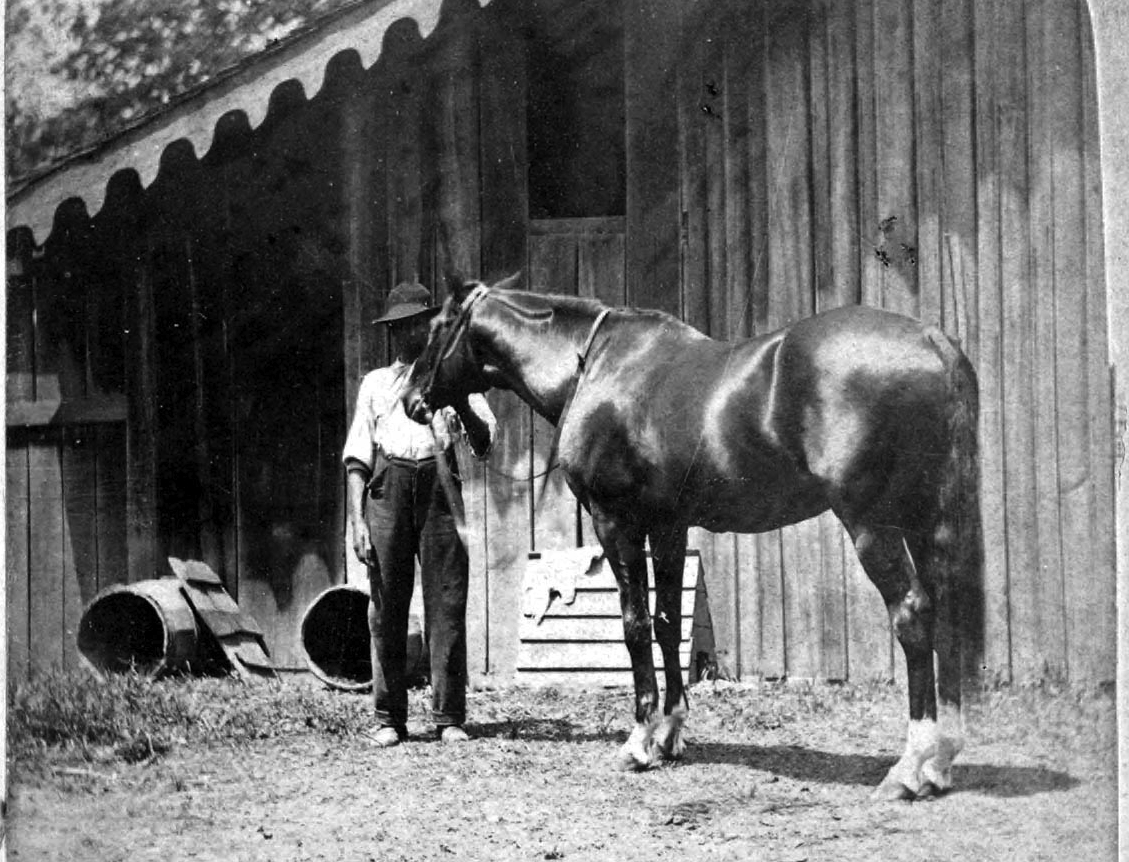 Not all great racehorses, we learned, make for great stallions.
"It's really a crapshoot," says Sean Feld, a bloodstock agent who has been in the game so long he bought his first horse as a teenager. Along with buying and selling horses—a practice called pinhooking—Feld owns a few stallions, pairs them with mares, and even started a recent service that digitally pairs them. "For some reason, it's impossible to predict which colts will emerge as the great stallions with all the variables, and the time it takes to see them on the track."
In some ways, the popularity of a stallion is to blame. Once a stallion develops a reputation for producing winning offspring, his stud fee rises and begins to attract higher quality mares. The mares, as racing experts explain, are also responsible if not more critical than stallions for bestowing the drive, heart and ultimate health and success of young foals.
Consider Tapit, considered the greatest stallion in recent times. Tapit won only three of six races, retired early after a lingering illness, but showed tremendous heart on the track, like his come-from-behind win in the 2004 Wood Memorial Stakes (video also below.) When he retired, Tapit commanded a modest stud fee of $15,000. After a few of his offspring began to win races, his stud fee began to rise, becoming the greatest and most expensive stud in North America. We decided we had to see this prized stallion for ourselves, so we went to pay Tapit a visit.
---
Tapit may have one of the nicest homes we've seen, for a thoroughbred.
Many of the leading horse farms in Lexington are located outside the city towards smaller towns like Versailles and Paris. Along the highway, heading out to these historic acres, it's impossible not to fall under the spell of the sweeping fields of bluegrass, each dotted by horses that graze in the distance. It's a rolling oil painting come to life.
The gates of Gainesway Farms, where Tapit lives, open like those to a baronial estate. For a century, the land here has been controlled by some of the leading families in American industry. In 1774, as leaders of the colonies were planning to declare their independence from England, the horse farm here outside Lexington was claimed by a wealthy colleague of George Washington. More than a century later, after changing hands, the acreage was purchased by Henry Payne Whitney, a world class polo player and scion of the same Whitney family that invented the cotton gin. Whitney eventually passed it on to another historic name: Cornelius Vanderbilt Whitney, whose family helped industrialize the nation by building steamships and railroad lines.
Now, the land is owned by Antony Beck, son of Graham Beck, a South African coal magnate who sold his mining interests to produce wine and raise horses. The farm itself is idyllic, but the barns that house the prized stallions here have a Spanish look, built from stone and with vaulted ceilings designed to keep the studs cool.
It was breeding season when we arrived. After monitoring a mating session, Ian Tapp, who develops the bloodstock at Gainesway, gave us a tour of the farm and introduced us to their stallions so we could greet the heroes of so many thrilling Triple Crown Races.
Here was Empire Maker, noshing quietly at the hay left in his stall — the same horse who devoured the muddy Belmont track to defy Funny Cide a Triple Crown Victory back in 2003. And nearby was Birdstone, idling time away — the same horse who a year later defied Smarty Jones a Triple Crown win at the Belmont Stakes.
And then, after passing the stalls of other track legends like Alex Afleet and Anchor Down, we came to the stall closest to the farm office. This was the home of Tapit.
---
Throughout history, from the Greeks and Romans in the West to the Indians and Persians in the East, the image of the white horse has represented strength, fertility and godliness.
We have Pegasus. We have Ali, Napoleon's mount. And we have Tapit.
Throughout his brief career, Tapit was a grey, the name used to describe his salt and pepper coat. But as he got older, like many grays, Tapit has turned albino white, and comes off godlike in this hi-def promo video the farm produced.
As we watched him munch on hay in his stall, I asked Tapp to describe the essence of a stallion. What are they like? The stallions at Gainesway are different than those in nature, he said, but good stallions are competitive with each other.
"He's the king of area, and in charge of his band of brood mares," Tapp said, explaining that other males are relegated to a "bachelor band." Only when the stallion gets old and vulnerable can he be challenged by the most dominant male in the bachelor band. It's the horse's way of natural selection, ensuring the strongest males mate with the highest number of mares, giving themselves a greater chance to ensure their bloodlines.
Tapit's gravitas and performance as a macho was hard to beat. He was the leading sire in 2014, 2015 and 2016, and his offspring has earned more than $110 million at the track. His sperm is so valuable that the farm put together a fund for investors to buy into, and one that's now valued at over $100 million.
If the People's Horse decided to breed, I thought, we should go for the most successful stallion in history, the living horse god Tapit.
I asked Tapp how much the stud fee was.
The price was $300k, per session, he said, the highest in North America.
On second thought, I said, we may need to shop around.