Our Pedigree Guru
"We've got to rig the election for Sixtyfivenorth."
Geoffrey Gray, True.Ink founder, in conversation with:
Les Brinfield, Pedigree Expert

GEOFF: How many horses do you think you know the genealogy to?
LES: I know the ones that count. The ones that you can do something with.
GEOFF: Of the mares we have to choose from, which is the best for The People's Horse?
LES: I think Sixtyfivenorth is the one. I think she's the best.
GEOFF: Why?

LES: Because I said so (laughing.) I mean, if you want to watch 24 hours go to waste, ask questions like that.
---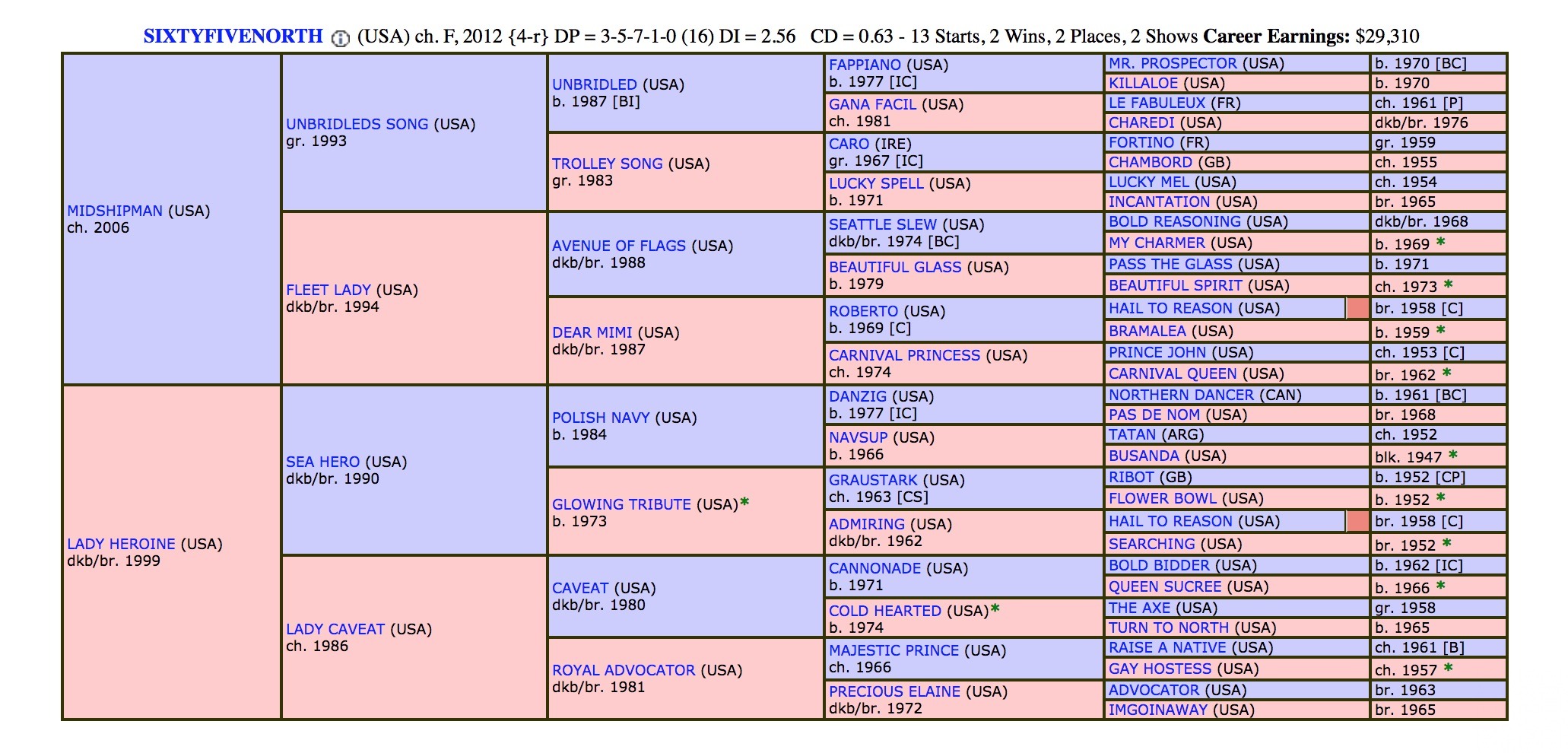 GEOFF: Well, try and explain it to us.
LES: [Looking at chart.] This horse is by Seattle Slew…hello hello!…out of a mare by a Buck Passer horse, a half-sister to Buck Passer. So that means that the second dame of this horse is the dame of Buck Passer. So another little twist I like is rather than doubling A, is to cross A and B where they're closely bred. So you get two different expressions by the same primary gene.
GEOFF: But her record was poor. Sixtyfivenorth only one race and didn't do much on the track.
LES: Some great dames never won a race.  
GEOFF: Ok, but everyone says you need speed and Sixty was not as fast as some of the others.  
LES: Always downside. I just ignore [those factors.] In fact, when the [pairings are so good] and outweighs the bad I think you just ignore the bad.  
---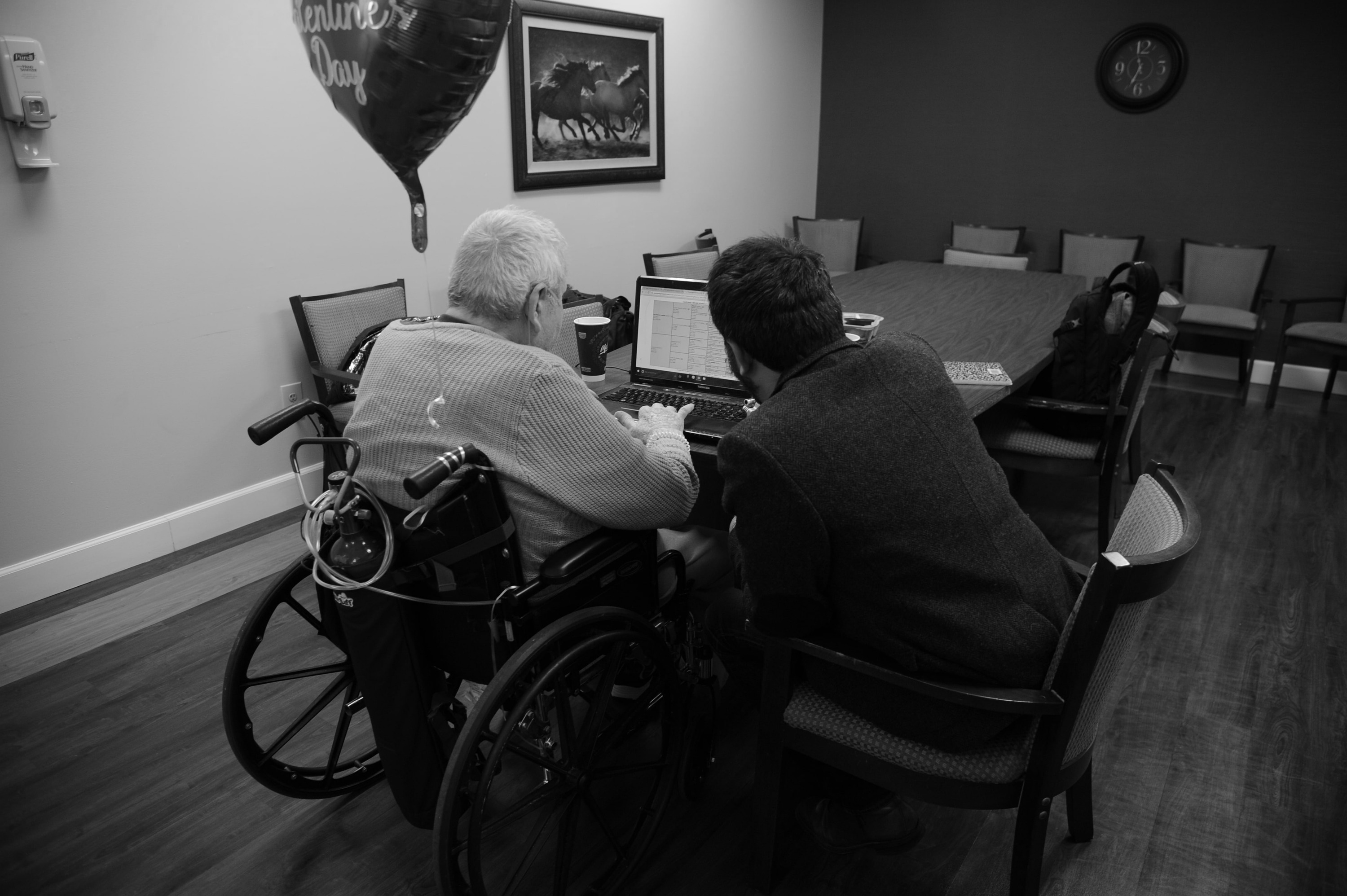 GEOFF: What about Barbara Orr?
LES: Well, this mare Barbara Orr was worth a damn because [looking into her chart] Preach and Yarn are sisters and there's Slew on Slew. I wouldn't say don't do this mare, but do the other mare first.  
GEOFF: So what makes Sixtyfivenorth an A and Barbara Orr a B?
LES: We just looked at it.
GEOFF: So they just have better connections in the bloodline?
LES: You got it. Every horse in the world descends to one mare. Not the same mare. They had family numbers but there is one mare at the root of family ten and everything out of family ten descends from that one mare. Cornish Prince carries a mare named Attergattis. There is a three quarter sister to La Troienne. They bought La Troienne for five grand. God Damn! You can't imagine that she was born 1926 to us. She's 90-years-old. You cannot imagine the number of horses descending from her.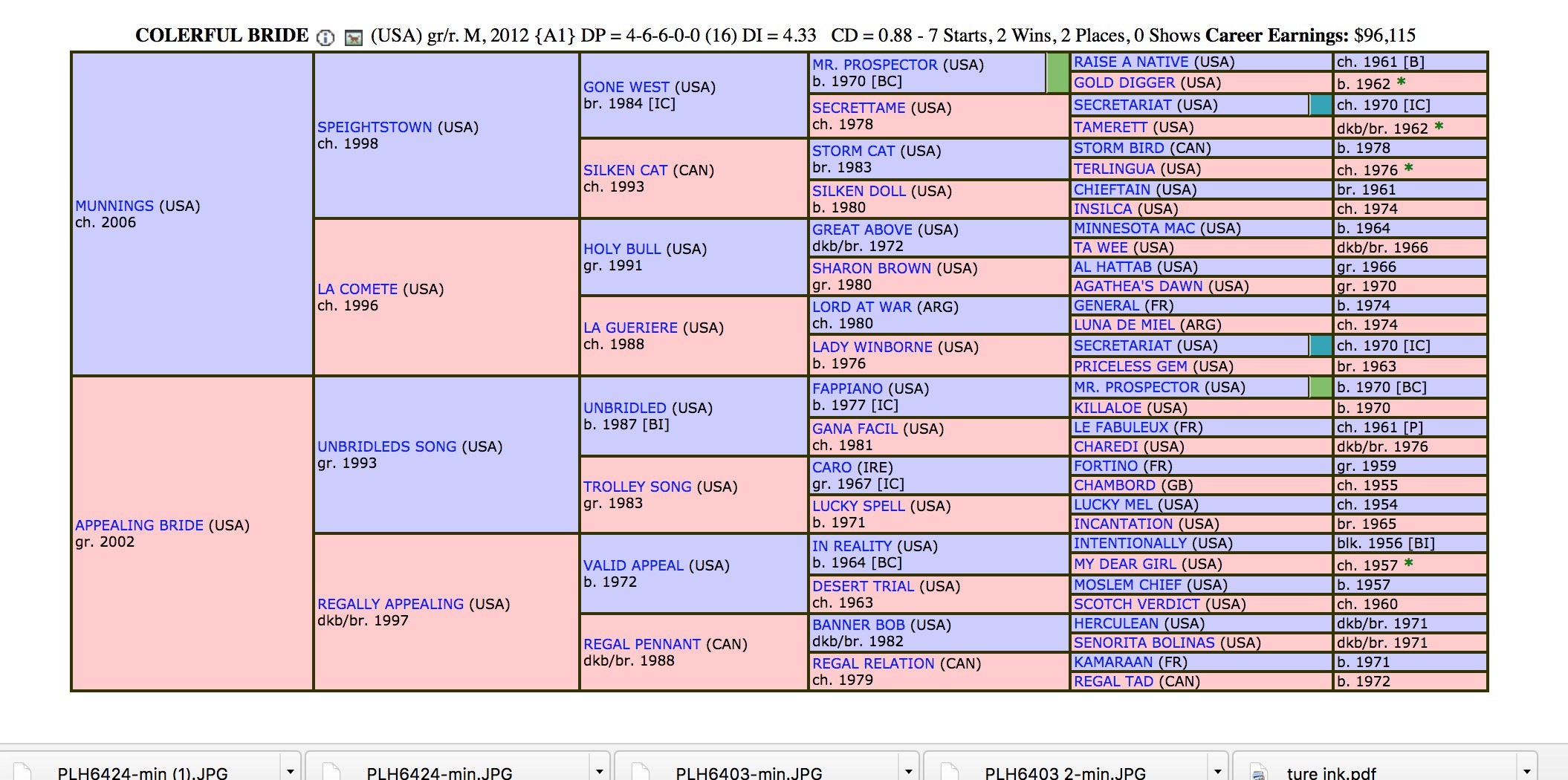 GEOFF: Well, what's your take on Colorful Bride?
LES: Good. Not as good as the other one. Colorful Bride's got five things.  
GEOFF: Which are?
LES: Second Carat, Holy Bull, Searching, Buck Passer, and In Reality. This is just five in the mares. I mean, we're not even looking at California Chrome.
GEOFF: And when you look at Chrome's pedigree can you match let's say those with Chrome, why is Colorful Bride not as good a fit with Sixtyfivenorth?
LES: I mean Colorful Bride doesn't have a Seattle Slew. I've got to say Sixtyfivenorth wants to be the mare. But it's like having good, better, and best.
GEOFF: Sixtyfivenorth has a filly. Does that change it at all?
LES: Yeah, little better filly, but not much.
GEOFF: Why? Is Colorful better with a filly too?
LES: Colorful Bride looks like she wants to have a filly. But these are highly esoteric [reasons] and sometimes reality reverses it and you get a winner filly that's moved the preferred sex to a colt.
GEOFF: So, how do we choose?
LES: You count the factors up. Colorful Bride has five. Sixtyfivenorth has 6. Simple as that. We've got to rig the election for Sixtyfivenorth.  
Editor's Note: Our Interview with Les Brinfield transpired before news that Barbara Orr had lost her baby. We're awaiting a deeper report. Until then, Brinfield reports: