Analyst Profile: Jeff Seder
For more than three decades, Jeffrey Seder, a Harvard-educated lawyer and self-described "entremanure," has spent millions to research and refine the science of picking a champion racehorse. He's figured out a formula, and his findings challenge the core of America's oldest pastime.
---
The horse auction in Timonium, Maryland, barely draws enough visitors to fill a section of the old state fairgrounds and racing track outside of Baltimore.
Yet the auction this May, amid the faded odds boards for gamblers and across from a sprawling string of strip malls, matches the best racing prospects in the country with owners spending millions.
 
Here in the empty bleachers, the scouts of the racing world—pinhookers or bloodstock agents, they're called—make notes in their auction catalogues, crack inside jokes and watch hundreds of horses sprint down the track—known as breezing—with their stopwatches.
It's a barren scene, but the skill and knowledge behind picking which racehorse to buy (and which to avoid) dates back centuries to the earliest bloodlines. It's critical for a horse owner to find a scout who can pick a winner.
While it's still early for us to choose The People's Horse, we went to Timonium to make new friends and learn about this art. Outside of traditional folks who use wisdom culled from growing up on horse farms and watching thousands of races, we met Jeffrey Seder, who picks racehorse with a far different methodology.
Seder has had an unorthodox ride into the horse racing game.
It began with the American bobsled team during his work for the U.S. Olympic Committee in the late 1970s.
Back then, Seder knew little about winter sports, but he was a rising analyst with a mind for collecting and understanding data. After graduating from Harvard with a legal and business degree, Seder used his analytical chops to break down the problem.
"The bobsled team had never been in medal contention," Seder told us about his days up in Lake Placid. The Swiss and East Germans were winning the lion's share of the medals, he recalls. U.S. Olympic officials were frustrated they couldn't compete. What were the Swiss doing that the Americans were not?
Seder's solution was a slow motion camera.
"We filmed them," he said, "and then we compared what the hell they were doing to what we were doing."
The videotape revealed the Americans' error.
"We were trying to get football players and tremendous athletes to push the sled," he said. "A big mistake. You didn't need raw power pushing the sled. You needed ballet dancers."
The problem with pushing the sled hard, the slow motion video tape revealed, was that the brute force created a wobble on the ice and a flaw in technique.
"[The wobble] created friction and made the sled go slower," Seder said. The brute bobsledders were replaced with graceful ones. Americans started winning bobsled medals, he says, thanks to the intelligence they developed under slow motion camera.
Seder was so pleased with the success of the analysis that he decided to start his own company and apply a similar methodology to his true passion: racehorses.
---
When his interest in horses started, Seder was still at Harvard.
He went on a date at a rental stable, fell in love with riding, purchased a horse, and the addiction blossomed. Horses calmed him, as they do many. They gave him a sense of ease and "a connection to something greater, a force that unlike people does not come with the competition, fear or approval desires."
He read about the origins of horses, and how the modern thoroughbred evolved from merging complimentary bloodlines. During the Crusades, English nobles returned from the Middle East with speedy Arab stallions and bred them with their sturdier horses to birth the modern thoroughbred. And from the inception of the racehorse, the game for horse owners and breeders has been to artfully match mare and stallion to generate winning progeny.
Bloodlines are a lucrative benchmark in the price of a horse. In 2006, for instance, a colt named The Green Monkey was sold at a two-year old auction for $16 million, the highest price ever paid for a racehorse, with a bloodline that ran deep into the shared history of fantastic racehorses and their fantastically wealthy owners.
The price of the Green Monkey was based on his deep bloodline connections to Northern Dancer, the most successful stallion of the 20th century and first to claim a $1 million stud fee. Northern Dancer had been sired by Native Dancer, aka The Grey Ghost, a famous horse raised on the farm of Alfred Vanderbilt Jr., he of the fabulously wealthy railroad family and former owner of the legendary Pimlico Racetrack in Baltimore.
But for all his rich pedigree, the Green Monkey was a flop. He never won a race, and he retired after only three starts.
Seder was impressed with the Green Monkey's speed, but not his technique. He analyzed the horse at auction with his slow motion camera, and could see the issue with his gallop.
"He was in a rotary gallop and couldn't get out of it," he said. "It looked dramatic, was fast as hell, but it didn't mean shit. If he's not talented enough to change leads and get into a racing gallop, he won't be able to sustain that kind of pace."
The inability of young horses to flip from the rotary gallop into a racing gait is among the minute yet leading metrics that Seder and his team at Equine Biomechanics & Exercise Physiology, Inc. have isolated as determining factors of a racehorse's success. In all of Seder's research, analyzing tens of thousands of racehorses over the past three decades, he's concluded the pedigree of a horse is wildly overhyped.
"Breeding is a very weak predictor of how good a horse can be, but it's a very good predictor of how much the horse will cost," Seder told us.
Despite the controversial idea that bloodlines matter little in horse racing, Seder has ground to stand on. He and his company were behind the success of American Pharaoh, winner of the Triple Crown and the greatest horse in recent memory. Seder had used his analytic, data-driven approach to purchase American Pharaoh's mother, Littleprincessemma, and an entire band of brood mares for Ahmed Zayat, the Egyptian-born businessman.
In analyzing Littleprincessemma, Seder did not check her bloodline before purchasing her. He obsessed other details.
"I liked the size and shape of her left ventricle," he said. "She was well put together. The size of her trachea, her spleen. She had it all!"
Thanks to Littleprincessemma and the entire band of mares that Seder was able to assemble, Zayat has emerged in recent years as one of the leading owners in horse racing. In addition to American Pharaoh, Seder's research is behind the careers of dozens of Stakes winners. Forever Together earned nearly $3 million, Bobbie's Kitten won the Breeder's Cup. Madcap Escapade, Prayer for Relief, the list goes on. Before big races, gamblers from around the country regularly seek his data and counsel before placing bets.
---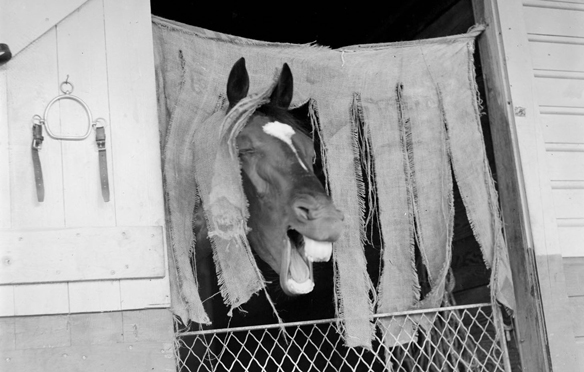 In total, Seder told us he and his team had identified 48 total factors that are dominant in predicting a successful racehorse.
"It's like musical notes of a symphony," Seder said of the leading criteria he uses to determine a great horse. "If you throw notes together, you're not going to get a symphony. Same with elite horses. Everything they do is fixed together in a pattern that works, and there's more than one pattern that works."
Among the determining criteria, the leading factors have nothing to do with pedigree. The belief in the power of bloodlines, he says, is tangled up in a knot of desire, class, status and pride.
"It's full of fads," he says, and decisions are based on emotion. "It's the pride of owning a part of a bloodline, having the chance to say they own it. It's like saying they own John F. Kennedy's shoes or Pierre du Pont's lighter."
The numbers don't add up for him.
"If you take the very top stallions that get the most expensive stud fees—say, 10% of them do well, and 1-to-2% become champions—than everybody goes bananas," he says. "Now, consider the cost. You're paying about $1 million for the mare, a stud fee of $200k for the stallion, and guaranteeing that 90% to 98% of what you'll get won't be that good. Now how powerful of a predictor is that?"